2022 Mitsubishi Lineup 0 to 60 Times
If you're looking for a vehicle with fast acceleration, Mitsubishi's 2022 lineup certainly doesn't disappoint. The automaker's cars, crossover SUVs, and electric vehicles have plenty to offer, from excellent gas mileage to truly cutting-edge handling and safety features. In terms of reliability, Mitsubishi is especially hard to beat. Check out Mitsubishi's 2022 lineup, including how fast each model can get to 60 mph.
2022 Mitsubishi Outlander Zero to 60 Times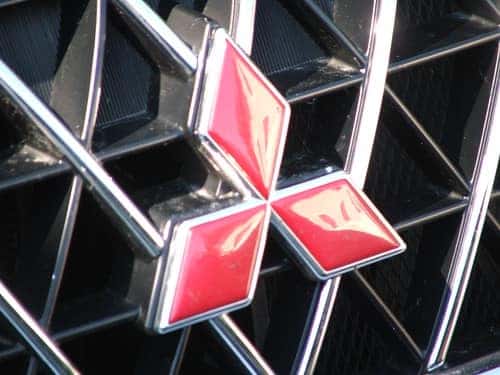 Mitsubishi by dustpuppy licensed under CC BY-SA 2.0
Mitsubishi truly revamped the Outlander in 2022 with a completely re-imagined, stylish exterior featuring a unique front and a confident, futuristic back. More advanced technology also ensures the Outlander will continue to be a popular option for years to come. Each trim exudes confidence and power. Acceleration is steady, and the Outlander takes 8.6 seconds to complete the zero to 60 mph run, and 115 feet to go from 60 to zero mph.
The 2.5-liter inline four-cylinder engine yields 181 horsepower and 181 pound-feet of torque and pairs exclusively with a continuously variable automatic transmission. Front-wheel drive comes standard, while four-wheel drive is optional. The SUV operates with smooth agility, and the front-wheel-drive option enjoys five modes for just about every condition: Eco, Normal, Tarmac, Gravel, and Snow. On the all-wheel-drive option, you can add a Mud mode. Steering is both responsive and balanced, and the SUV glides smoothly over both paved and unpaved roads with its huge 20-inch wheels.
2022 Mitsubishi Outlander Sport Zero to 60 Times
The Outlander Sport continues to lure buyers in with its appealing exterior and refined interior. Mitsubishi made few changes in 2022 other than retiring the Black Edition trim and offering Special Editions on the SE and GT trim levels. With the 2.4-liter engine, the Sport will get up to 60 mph in eight seconds. The 2.4-liter four-cylinder engine is available on the GT trim and produces 168 horsepower and 167 pound-feet of torque, making it a great option for those looking for something that's both fun and quick.
A 2.0-liter four-cylinder engine comes standard and generates 148 horsepower and 145 pound-feet of torque. Both the 2.0-liter and 2.4-liter engines pair with a continuously variable transmission. All-wheel drive is optional with the base engine, while it's standard on the GT trim. The ride quality is smooth and comfortable, and the steering is precise. Despite its heftier appearance, the Sport is highly stable and feels balanced.
2022 Mitsubishi Outlander PHEV Zero to 60 Times
If you're looking for an SUV that's truly fuel-efficient, consider the Outlander's plug-in hybrid model, the PHEV. In addition to a larger electric motor and additional battery capacity, the 2022 PHEV is also available with an additional row of seats for even more space. The PHEV reaches 60 mph in a total of nine seconds. It comes standard with a 2.4-liter four-cylinder engine that produces 126 horsepower and 147 pound-feet of torque. It also comes standard with all-wheel drive.
Built for performance, the PHEV enjoys excellent traction, no matter what the conditions are. If you need a little extra juice to get your PHEV up a steep hill, you can switch to Parallel Drive Mode, which will use the gas engine to drive the front wheels and pump any extra electricity back into the lithium-ion battery pack. Series Hybrid Mode is useful for getting a quick little burst of speed or charging the battery. EV mode utilizes the lithium-ion battery pack and on a full charge, the SUV boasts a 24-mile electric driving range.
2022 Mitsubishi Eclipse Cross Zero to 60 Times
It's not always easy to find a compact SUV that's bold, sporty, and cozy, but the newest Eclipse Cross is all three. With a modernized exterior and a more tech-heavy interior, the 2022 model is more appealing than ever. The Eclipse Cross takes 8.7 seconds to get up to 60 mph on the track, putting it in close competition with similar small SUVs. The 1.5-liter turbocharged four-cylinder engine pairs with a continuously variable transmission to produce 152 horsepower and 184 pound-feet of torque, plenty to accelerate onto a busy freeway.
It comes with front-wheel or all-wheel drive and keeps the same four trims as last year. The Eclipse Cross offers a calm, steady ride, but its steering is where the SUV really shines. Steering is both light and smooth, making it easy to get out of a tight parking space.
2022 Mitsubishi Mirage Zero to 60 Times
If you're after a reliable, affordable compact car, the 2022 Mitsubishi Mirage has no shortage of excellent features. The excellent gas mileage is just one of its many perks. The Mirage takes 12 seconds to get up to 60 mph and 127 feet to come to a full stop. All trims come with a 1.2-liter three-cylinder engine that churns out 78 horsepower and 74 pound-feet of torque.
The base ES trim comes with a standard five-speed manual transmission and an optional two-speed continuously variable automatic transmission that's standard on all other trims. With electric power steering, the Mirage handles like a dream. The car balances its weight evenly for a smooth, peaceful ride.
2022 Mitsubishi Mirage G4 Zero to 60 Times
The sedan version of the 2022 Mirage boasts a host of great features and a minimalist, comfortable cabin. Additional upgrades also ensure that you get a lot of value for your money. Like the hatchback, the G4 accelerates up to 60 mph in 12 seconds. A 78-horsepower engine with 74 pound-feet of torque gives it plenty of power for cruising around town. Front-wheel drive is standard across all trims, and suspension updates from the previous year help to improve the car's handling while balancing it more evenly. Like the hatchback, handling is agile and efficient.
If you live in or around the Fort Myers, Florida, area and would like to know more about Mitsubishi's 2022 lineup and even get the chance to get behind the wheel of one yourself to test drive, visit us at Fort Myers Mitsubishi at 2320 Colonial Blvd. No matter which model you're interested in, you can find it in our lot and get it at a price you can afford. Take home your new Mitsubishi sedan, hatchback, or SUV today.