2022 Mitsubishi Outlander Trim Levels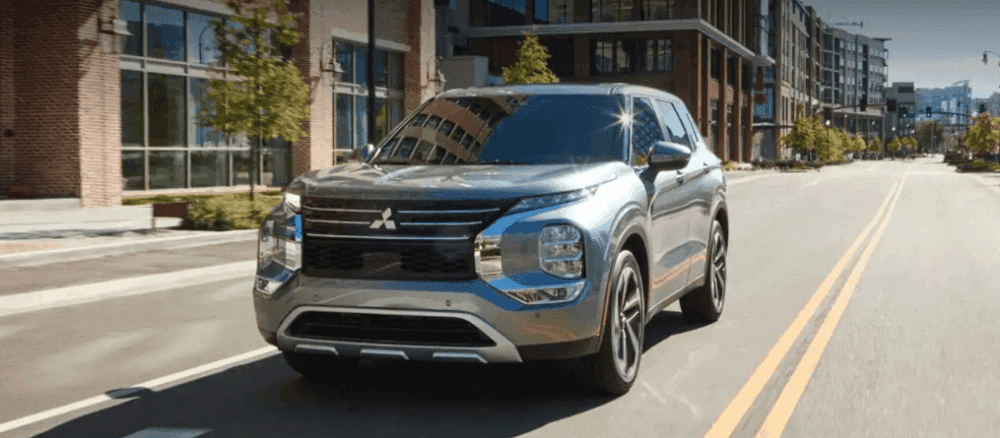 It can take a lot for a vehicle to stand out in the competitive SUV field, and the newly released 2022 Mitsubishi Outlander does just that. Offering comfortable seating for up to seven passengers and five different trim levels to choose from, a high towing capacity, and customization options, the 2022 Outlander offers everything you need with the versatility to overcome what life throws at you. In this guide, you can explore the Outlander engine specs and what each trim level adds to the 2022 Outlander. To experience the Outlander in person, or to answer your questions about Mitsubishi vehicles, contact our team at Fort Myers Mitsubishi today.
2022 Mitsubishi Outlander Engine Specs & MPG Ratings
The Mitsubishi Outlander is available in five different trim options, and they each share the same engine, providing comparable performance numbers with MPG ratings, horsepower, and torque. Each trim level on the 2022 Mitsubishi Outlander features a 2.5-liter inline four-cylinder engine that generates 181 horsepower and 181 pound-feet of torque.
Available in both all-wheel drive and two-wheel drive configurations, The Outlander gets 23 miles per gallon city and a 30 miles per gallon highway in all-wheel drive, and adds an additional mile per gallon to each in two-wheel drive. It's also capable of going from zero to 60 in 9.7 seconds, and offers competitive towing up to 2,000 pounds, allowing you to transport a trailer or personal water sport vehicle with ease.
2022 Mitsubishi Outlander ES
The most basic configuration of the Mitsubishi Outlander, the 2022 Mitsubishi Outlander ES, still has a lot to offer you as a buyer. With stylish 18-inch wheels on the outside, and an 8-inch digital display connected to a six-speaker sound system on the inside, it's beautiful and functional both inside and out. Easy smartphone integration allows you to connect your phone to your Outlander automatically, while safety features like rear automatic braking, forward-collision warning, and both lane drift and driver awareness warnings help keep you safe behind the wheel.
2022 Mitsubishi Outlander SE
The next step up for the 2022 Mitsubishi Outlander is the Outlander SE, which offers an optional convenience package with features such as 20-inch wheels, Mitsubishi Connect to allow for emergency contact, and smart subscription services to improve your digital access to your vehicle. Features like heated side mirrors, automatic wipers, and increased 9-inch digital display with built-in navigation and rear seat USB hubs further improve the convenience on offer from the Mitsubishi Outlander SE.
2022 Mitsubishi Outlander SE Tech
For technologically inclined drivers, the 2022 Mitsubishi outlander SE Tech trim adds some technological features to make your drives more connected. The 12.3-inch digital display pairs with a multi-camera system to keep you more aware of your surroundings on the road, while a premium Bose sound system allows for the clearest possible sound for your music and podcast enjoyment. You can top it all off with a panoramic sunroof to help you take in more of the world around you as you go.
2022 Mitsubishi Outlander SEL
An alternative upgrade from the SE line, the Outlander SEL also includes the 12.3-inch digital display, as well as powerful mirrors to protect your Outlander when parking in tight spaces or on the street. Tri-zone climate control helps you keep every passenger in the car comfortable, while a powered driver's seat with five memory settings allows you to quickly and automatically adjust your seat to match your own comfort levels when you get in. Roof rails on the top of the Outlander make it more functional, while a leather interior gives you that premium feel every time you get inside.
2022 Mitsubishi Outlander SEL Touring
As the luxury trim for the 2022 Mitsubishi Outlander, the SEL Touring trim features premium amenities to make every drive in your SEL Touring special. In addition to including the panoramic sunroof and Bose audio system, the SEL Touring trim features a heated steering wheel. An enhanced upholstery package takes comfort to the next level, while the head-up display projects your most important driving information like speed and fuel level where you can easily see it without taking your eyes off the road to keep you and your passengers safe.
Fort Myers Mitsubishi Can Help You Find Your Ideal 2022 Mitsubishi Outlander Trim Level
If you're interested in seeing the updates on the new Mitsubishi Outlander, or if you're curious about the Mitsubishi lineup, then Fort Myers Mitsubishi is here to answer your questions. Our friendly staff at Fort Myers Mitsubishi will help you identify the differences in each Outlander trim option in order to find the custom fit that best matches what you are looking for. Our financing team can work with you to develop a payment plan for your purchase, and help you leave with your new 2022 Mitsubishi Outlander. Reach out to us online, by phone, or visit us in person, and we can get you started on the pathway to your Mitsubishi Outlander trim level of choice.