2022 Mitsubishi Outlander vs. 2022 Kia Sorento
Driving an SUV offers you the interior space you need for passengers or adventure gear, depending on where you're headed. If you're in the market for a new SUV, you may consider the Mitsubishi Outlander and Kia Sorento. They're both SUVs that offer three-row seating, but they do have differences you can review when determining which is best for you. Here's everything you need to know about the differences between the 2022 Mitsubishi Outlander and the 2022 Kia Sorento.
Trim levels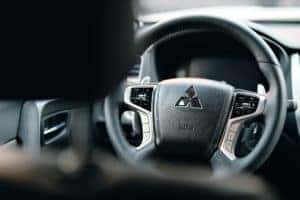 The 2022 Outlander is available in seven trims: ES 2.5 2WD, Black Edition, SE 2.5 2WD, SE Tech, SEL Special Edition, SEL, and SEL Touring. The ES 2.5 2WD is the lowest trim option, and the SEL touring is the highest. The trim level you choose can determine the vehicle's colors, features, and technology options. Key features for the ES 2.5 2WD include 18-inch alloy wheels, an 8-inch smartphone link display, and rear cross-traffic alert. Some key features for the SEL Touring trim include a 12.3-inch full digital driver display, three-zone automatic climate control, and heated rear seats.
Eight trims are available for the Sorento: LX, S, X-Line S AWD, EX, X-Line EX AWD, SX, SX Prestige, and X-Line SX Prestige AWD. The LX is the lowest trim for the Sorento, and the X-Line SX Prestige AWD is the highest trim available. Details on the exterior of the car, such as the handle and trim colors, can change depending on the trim level. Some key features for the LX include auto-braking technology, an 8-inch touch screen, and LED headlights. Key features for the X-Line SX Prestige AWD include 20-inch wheels, high-utility roof rails, and a 10.25-inch touch screen.
Performance
The Outlander has wheel control technology that integrates with the available drive modes to bring you the best handling. For 2022, the Outlander has a 2.5-liter four-cylinder engine with an electrically operated valve timing control system, direct injection, and cooled exhaust gas recirculation. This engine's design focuses on fuel economy and clean emissions so you can save money and the planet. When you drive the 2022 Outlander, you can average 24 mpg in the city and 31 mpg on the highway. The newly developed suspension features enhance the ride with advanced anti-vibration and stabilization.
Averaging 24 mpg in the city and 29 mpg on the highway, the Sorento performs just below the Outlander in terms of fuel economy. Some performance features for the Sorento include the adaptive all-wheel drive and torque vectoring cornering control. The LX trim comes with a 2.5-liter four-cylinder engine with 191 horsepower and 182 lb-ft of torque, while the X-Line SX Prestige comes with a turbocharged, 2.5-liter four-cylinder engine with double overhead camshafts, 281 horsepower, and 311 lb-ft of torque. The eight-speed dual-clutch transmission and steering-wheel-mounted paddle shifters provide a controlled drive and enhance handling.
Interior
The Outlander's interior features provide you with the highest quality experience. MI-PILOT Assist can help you control your vehicle during traffic jams, adjust entertainment, and support speed control. The largest screen for the Outlander is the 12.3-inch high-resolution digital display, which showcases your music, navigation, and vehicle information. The Outlander comes with myQ Connected Garage, a software that allows you to connect your garage from your SUV. Black synthetic leather and light gray leather are some options for the seats, which offer eight unique seating adjustment options and seating for up to seven passengers.
Some trims for the Sorento come with a 10.25-inch touch screen with satellite radio, a one-touch panoramic sunroof, wireless phone chargers, and a heated steering wheel. There's seating for up to seven passengers, with adjustable seats so you can customize your ratio of cargo to passengers. There are also up to eight USB charging ports throughout the SUV to ensure your passengers can keep their devices charged and connected. The interior seat trims for the Sorento include black cloth, black SynTex, gray SynTex, black 3D embossed genuine leather, gray 3D embossed genuine leather, and rust 3D embossed genuine leather.
Exterior
The 2022 Outlander features a redesigned exterior that focuses on being dynamic and protective. The body combines modernity with confidence to provide an assertive and powerful feeling. The newly developed chassis offers next-level performance and stability that supports the body. With available 20-inch wheels and T-shaped rear lights, the Outlander is distinctly Mitsubishi and luxurious. The panoramic sunroof creates a more spacious feeling for the interior and allows more light to shine through. There are eight color options for the Outlander: Cosmic Blue, Deep Bronze Metallic, Red Diamond, White Diamond, Labrador Black Pearl, Alloy Silver, Black Diamond, and Mercury Gray.
The Sorento offers style and security for the adventurous driver with a rugged yet modern exterior. Some exterior features for the Sorento include front and rear skid plates, solar control glass, a sound-absorbing front windshield, and up to 20-inch wheels. The X-Line SX Prestige trim has unique X-Line roof rails, body-color door handles, gloss black outside mirrors, a gloss black rear spoiler, and a panoramic sunroof with a sunshade. The Kia Sorento comes in nine colors: Ebony Black, Sapphire Blue, Sparkling Silver, Everlasting Silver, Gravity Gray, Glacial White Pearl, Aruba Green, Wolf Gray, and Passion Red Tint Coat.
Safety
A suite of safety features in the Outlander keeps both the driver and the passengers safe. Through technology, design, and materials, the Outlander provides the highest level of safety. Some safety technology features include active blind spot assistance and rear automatic emergency braking. Surround-view cameras help you back into spaces and pull away while keeping others safe. The Outlander also has a thorough system of air bags, including front, driver's side, and side-curtain air bags, to keep passengers safe during a crash.
There are many safety options for the Sorento, depending on the trim you select. One safety measure in the Sorento is the driver assistance technology, which includes standard auto emergency braking, blind-spot detection, rear cross-traffic collision avoidance technology, and surround-view and blind-spot cameras. Forward collision avoidance assistance can help you avoid accidents with other vehicles and pedestrians by alerting you and helping you stop the vehicle. Safe exit assist is a feature that alerts the driver about oncoming vehicles and can activate the child safety lock to prevent passengers from exiting when it's unsafe.
We hope this guide has been helpful if you're trying to pick between the Mitsubishi Outlander and the Kia Sorento. For more information or to inquire about our inventory, don't hesitate to reach out to our dedicated service members today.
Image by Komarov Egor is licensed with Unsplash License