How To Change a Wiper Blade on a Car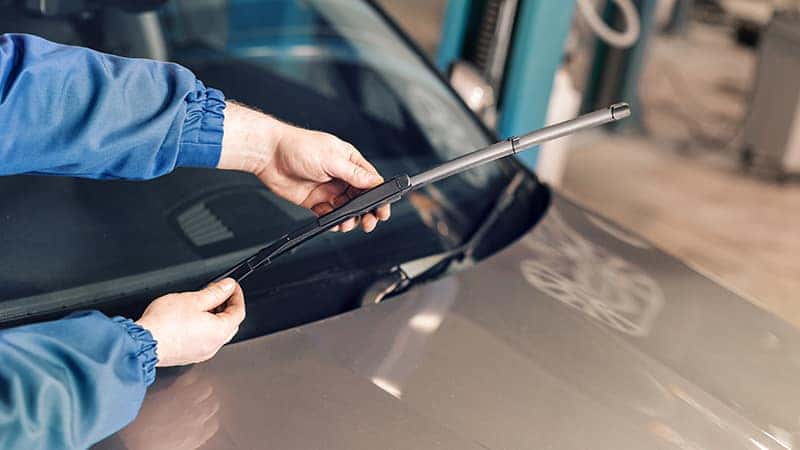 For safe driving, it's important to maintain your car's wiper blades. This can often mean changing a wiper blade that is too old or no longer works properly. Changing the wiper blade on a car can be a simple and easy process if you know what you're doing and take all the necessary steps and precautions. At Fort Myers Mitsubishi, we want you to have a safe and enjoyable driving experience. Read on to learn how to change a wiper blade on a car and keep your vehicle at its best.
Determine if You Need New Wiper Blades
Before you begin changing your wipers, you want to make sure that your old wipers are no longer acceptable. When you purchase a vehicle, consult the owner's manual to determine when you should replace the wipers. If the recommended time has expired, you should consider changing the wipers even if you think they look fine. This is the best way to guarantee that you are never without functioning wiper blades.
You can replace wipers if you notice any signs of damage or diminishing performance. Inspect the wipers carefully for any missing pieces that could limit the wiper's reach on your vehicle. If you've noticed that your wiper is struggling to provide you with clear windshield as you drive or is moving too slowly to work efficiently, it may be time for a change. Ineffective wiper blades can provide a serious safety hazard, especially if you find yourself driving in heavy precipitation.
If your wiper blades are making strange squeaking noises when you use them, you may also want to change them to limit risk. In some cases, only one of your blades may have a problem, but it's better to replace the entire set anyway. If one wiper is old or broken, it often means the other wiper will fail soon, forcing you to repeat this process or risk your safety.
If your wiper simply leaves a streak of dirt on your windshield, though, you can first clean the wiper gently with a wet rag or paper towel before electing to change it. The blade may have just gathered some easily removable dirt. If this fixes the problem, you can continue driving safely, but you may want to keep a close eye on your wiper blades for a while in case any other issues arise. If you aren't sure if your blades are working properly, it may be better to stay on the safe side by changing them.
Measure the Wiper Blades
Once you've decided to change your wipers, make sure that you properly measure the area they will cover. The length needed for your wiper blades can vary depending on the vehicle. The best way to limit any mistakes or guesswork is to record the length of your windshield. This can help you make a precise decision when you purchase new parts. Knowing the make and model of your car can help you purchase wiper blades that are compatible with the attachment points on your car's wiper arms.
Take Off Windshield Wiper Blades
With your new blades purchased, you can begin the installation process. The first step is to take your old wiper blades off the car. Start by lifting the wiper off the windshield and moving it to an upright position. This can provide you with more space and limit the risk of causing damage to your vehicle. It also prepares you to safely remove the blade.
The next step is to press on the tab on the bottom of the joint between the wiper arm and the wiper blade. After you do this, you can gently pull the wiper downward. This should allow the blade to come off. If you're planning on replacing both blades, repeat the same process for the other side.
Put New Wiper Blades On
Once your old blades are off, you can add your new blades. You may want to take the opportunity to clean off the area of your windshield that is normally covered by your blades. Once you're ready to install the new wipers, you can follow a similar process to taking them off. Start by positioning the blade under the hook where you removed the previous one from. Then you can press the new wiper blade into the hook until you hear a clicking sound. This means that you have successfully installed the blade.
You can then gently lower the blade back to the windshield to avoid any cracks or damage. If you're planning on replacing both, repeat the process for the other side. Once this is done, you can test the blades by running the wipers. This can help you make sure that the wipers are effective and installed correctly. For any help troubleshooting this process, you can always visit your local Fort Myers Mitsubishi or contact us with questions.
How Often Should You Change Your Windshield Wiper Blades?
The answer to this question can vary depending on the make and model of your car as well as your usage of the vehicle. Other than carefully monitoring the wipers' performance and checking the user manual of your vehicle, there is no way to determine a standard life for all windshield wiper blades. If you feel like it's been a while since your last wiper change, consider checking your vehicle's manual today.
Where's the Best Place To Order Wiper Blades?
If you drive a Mitsubishi sedan, hatchback, or SUV, you can always use Fort Myers Mitsubishi's parts center to locate any parts you may need, including wiper blades. Our friendly and knowledgeable staff can help you find exactly what you need. If we don't have what you're looking for, we can also help you order it.
You can also visit your local auto parts store to locate the proper blades for your vehicle. Be sure to take your windshield measurements before you shop to make sure that you get the right fit. If you aren't limited by shipping time, you can also order wiper blades from an online parts supplier.
Although you might not think much about them, the wiper blades can be an extremely important aspect of your vehicle's performance. Understanding how to correctly change them can keep your vehicle running smoothly in any condition. At Fort Myers Mitsubishi, we want you to have a quality experience in your new or pre-owned Mitsubishi vehicle. Consider visiting us today to learn more about improving your driving experience.