The Mitsubishi remote start feature allows you to start your car's engine from a distance or from inside your home. This allows you to conveniently warm up or cool down your vehicle during inclement weather or turn the engine on for your passengers when you're away from the ignition. In this guide we'll cover the ins and outs of how Mitsubishi's remote start works, which models are equipped, how to program and use the remote start feature, and how to get remote start installed on your vehicle. If you have any questions about Mitsubishi remote start, please get in touch with our team at Fort Myers Mitsubishi. We'll be happy to answer any questions about Mitsubishi tech features and the My Mitsubishi Connect App.
What Is Mitsubishi Remote Start?
Remote start systems allow you to start your Mitsubishi's engine without being in the vehicle. This can come in handy on very hot or stormy days, and you can make your vehicle cozy before you get in, rather than having to endure that uncomfortable period when you're waiting for your cabin to warm up or cool off.
The 2021 and 2022 Mitsubishi model lineup has much to offer its drivers in terms of drive-enhancing features; one of these is the remote engine starter. While some of the new Mitsubishi models offer remote start as a factory-installed standard feature, Mitsubishi cars with conventional turn-key ignitions can also be upgraded with a remote starter.
Learning how to use Mitsubishi's remote start is fairly easy. You can generally remote start your Mitsubishi in one of two ways; first, with the key fob or secondly with the Mitsubishi Connect app. When your Mitsubishi remote start is equipped, you can start your Mitsubishi with your key fob with these next few simple steps.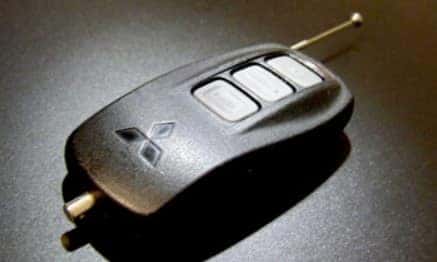 image from Mitsubishi Parts USA
How To Use Mitsubishi Remote Start With Your Key Fob
If you have the factory-installed Mitsubishi remote start, your main key fob will have two buttons on the left and three on the right. The left-side buttons will lock and unlock the key fob itself, and the buttons on the right are the controls to the remote start feature on your Mitsubishi.
If you're holding the key fob so the three buttons are on the right and the Mitsubishi logo is in its correct orientation, the top button is the Function button, the middle is the Start button, and the bottom is the Stop button. The buttons are labeled, the Function button with an "F."
How To Start Your Mitsubishi with Remote Start
Push the Function button, a flashing light that reads "START" will appear and blink for a few seconds.
While it's flashing, press the Start button, and the "START" will stay lit.
Your vehicle will start, and two additional lights will appear. The top light indicates the strength of your key fob's signal and looks like the typical Wi-Fi symbol.
The bottom light will either read "10 min" or "30 min," which is the length of time your engine will stay running without you operating it. Even when these lights turn off, your vehicle should remain running.
How To Turn Off Your Car With The Key Fob
If you change your mind and want to shut your engine off, hold down the Stop button. This will light up the word "STOP" and the signal strength indicator on your key fob, and your Mitsubishi's engine should shut off.
If you want to change the length of time your Mitsubishi will run, press the Function and Start buttons at the same time, and either the "10 min" or "30 min" indicator will light up. Press the Function button to alternate between the two, and you can set the time by holding down the Function button.
How To Lock Your Mitsubishi Key Fob
If you want to lock your key fob, hold the Function button and the top button on the left side — which depicts a locked padlock — at the same time. "SW LOCK" will light up, and you won't be able to remote start your Mitsubishi with your key fob.
To unlock your key fob, press the Function button and the bottom button on the left — which depicts an unlocked padlock — at the same time. Even though no light will appear, your key fob will be unlocked.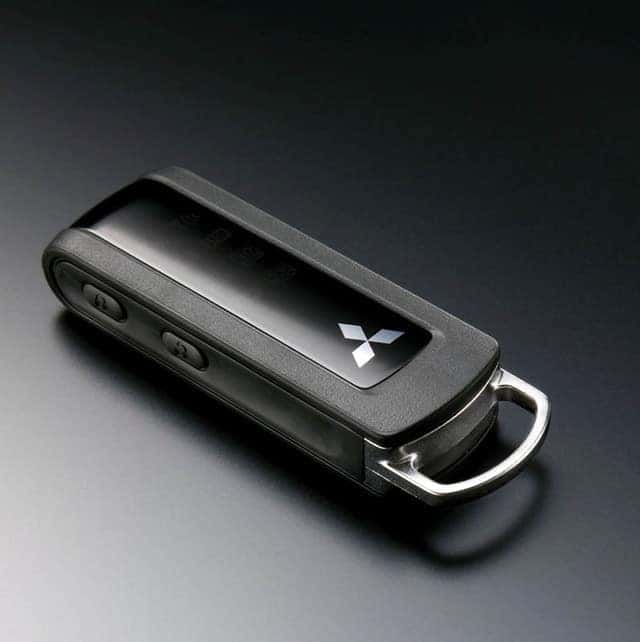 image from Mitsubishi Parts USA
You can use your Mitsubishi remote start key fob to start your engine whether your doors are locked or unlocked. If you open your doors after you've remote started your vehicle, however, your engine will automatically shut off.
How To Use The My Mitsubishi Connect App
The other method to remote start your Mitsubishi is through the My Mitsubishi Connect app, which is even easier to use than the key fob. All you need to do is connect your car to your My Mitsubishi App, which can either be done by a knowledgeable staff member at the dealership or you can do it yourself by pairing your phone with your Mitsubishi car or SUV.
When you open the My Mitsubishi Connect app, your home screen will show your vehicle. In the bottom left-hand corner, you'll see an icon that looks like an engine. Tap it to pull up two new icons: one looks like an engine above the word "ON," and the other one looks like an engine above the word "OFF." Tap "ON" and enter your four-digit security PIN when prompted.
Your Mitsubishi's engine will run for 10 minutes, and it will shut off if you don't begin operating your vehicle. If you wait too long, don't worry — you can remote start your car one more time before you'll need to reset the feature.
Mitsubishi Remote Start Installation and Upgrade
While other aftermarket car parts stores sell and install remote starters, Mitsubishi recommends scheduling an appointment at a qualified Mitsubishi dealership service center to have accessories like remote starters installed in your vehicle. Installing equipment like a remote starter improperly can void your warranty. Rather than risk it, contact your local Mitsubishi dealership about ordering your remote start upgrade to ensure that you're getting quality advice and professional service.
Contact Our Team In Fort Myers for Remote Start Assistance
Explore our inventory of Mitsubishi models equipped with remote start, find model information brochures, and save on your installation and upgrade service at Fort Myers Mitsubishi. Reach out to our service technicians to learn about upgrading your Mitsubishi and our current service offers. We'll be happy to help you customize your Mitsubishi to your liking and provide you with all the information on your Mitsubishi's convenience features and how to use them with your My Mitsubishi Connect App.
Directions To Our Mitsubishi Dealership